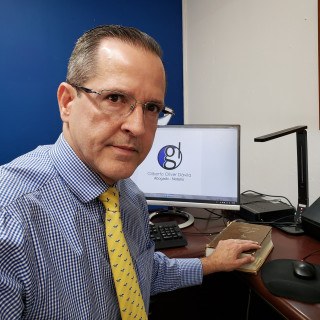 | | |
| --- | --- |
| Name: | Gilberto Oliver |
| Location: | Puerto Rico, Carolina County, Carolina |
| General Information: | 27 years of experience | Personal Injury, Real Estate Law, Divorce… | Notary Public in Puerto Rico, Puerto Rico |
| Contact Information: | |
At Abogado Notario Gilberto Oliver, clients can expect to receive a comprehensive list of legal and notarial services. Whether they need representation in civil or criminal cases at the state or federal level, assistance with inheritance and succession matters, or help with notary services such as drafting contracts, deeds, and powers of attorney, Gilberto and his team have the knowledge and expertise to help. They also handle family law cases such as divorce, adoption, and child custody, as well as civil and commercial litigation, including medical malpractice and labor disputes.
If you have been involved in an accident and need to file a claim with an insurance company, Abogado Notario Gilberto Oliver can help. They provide free initial consultations and will assist with declarations and affidavits to support your case. Contact them today at goliverlaw@gmail.com or visit their website at www.abogadoencarolina.com to schedule your appointment.
In addition to his extensive practice areas, Gilberto is also a Notary Public in Puerto Rico, admitted to practice in Puerto Rico since 1996, and the 1st Circuit, US District Court for the District of PR since 1996. He accepts credit cards and contingency fees as payment. Gilberto is fluent in both English and Spanish, both spoken and written.
Gilberto's exceptional legal skills and extensive experience make him a highly sought-after attorney. He is dedicated to providing the highest quality legal services to his clients and is committed to achieving the best possible outcomes for them. If you are seeking an attorney with a proven track record of success, look no further than Gilberto Oliver.
Prior to his current position, Gilberto worked as an Associate Attorney at McConnell Valdés Law Firm from 1996 to 1997. During his time there, he gained valuable experience in litigation and corporate law. He worked with a team of attorneys to represent clients in complex legal matters and provided strategic legal advice to help clients achieve their goals.
Gilberto is a member of several professional associations, including the Puerto Rico Bar and the Colegio de Notarios de Puerto Rico. He is committed to staying up-to-date with the latest legal developments and regularly attends seminars and conferences. Additionally, he holds several certifications that demonstrate his expertise in his areas of practice.
Puerto Rico Bar: Member – Current
Colegio de Notarios de Puerto Rico: Member – Current
Gilberto has received various awards throughout his career, which are a testament to his dedication and hard work. His contributions to the legal industry have been recognized by his peers and clients alike. He is committed to providing exceptional legal services and achieving the best possible outcomes for his clients.